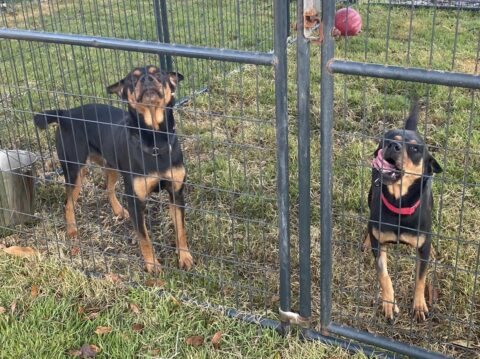 Our rescue has once again received a bonded pair of Rottweilers!   To our knowledge, this "dynamic duo" could possibly be brother and sister and we guess their ages to be 10 months and older – as it's often times hard to tell their ages. They both have tails!
These lucky dogs were rescued from the south Florida area and brought to FLRRR, where they will be evaluated, microchipped and brought UTD on their vaccines. We believe the female is already spayed.  We can assure you that they both have incredible personalities and the male does seem to show some protection towards the female, which is very understandable. This is often seen with bonded pairs, so for this reason we would suggest they go into a home with no other dogs.
FLRRR has a very long "successful" history of bonded-pair adoptions, which may account why they always seem to find their way to us. Let us not break with tradition.  Please help us find Scarlett and Rhett their furever, happy home. They are an awesome pair and will bring much joy and excitement to some lucky family.