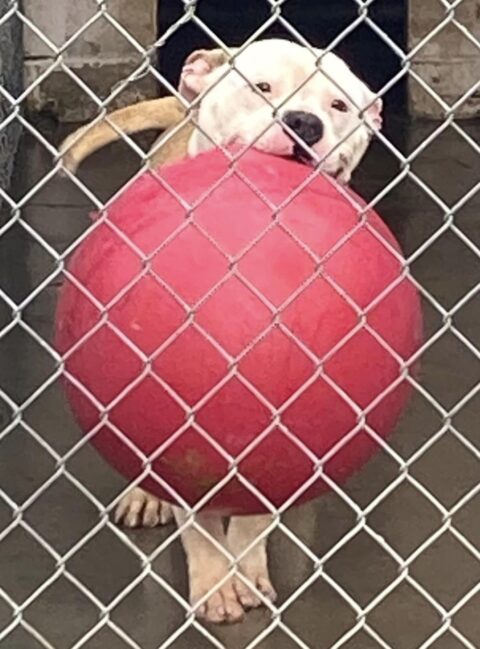 "A Colby Pitbull is intelligent, athletic, and determined. These are traits that made them great fighting dogs. However, with the proper training and socialization, these inherent traits would also make Colby Pitbulls great pets."
Our sweet BELLE who came to FLRRR about 2 years ago and is now 6 years old, wasn't one of the lucky ones to receive proper training to become a dog that could live in a home and socialize with other dogs. She loves people and the attention of people, but she always has herself "ready" should she ever face another dog. Belle, it's not your fault, sweet girl, but we will keep you happy healthy and safe for the rest of your natural life.
Belle is a Sanctuary Dog. Our Sanctuary dogs are considered unadoptable for a variety of reasons, among them medical issues, severe emotional distress, severe physical abuse, history of aggression, etc. Many of them, if not all, have literally been saved from being euthanized due to conditions they acquired through no fault of their own.
Please consider looking into our monthly sponsorship program which allows you to virtually "adopt" one of our sanctuary dogs and help support him/her financially, on a monthly basis. The costs involved in maintaining and supporting our 24 sanctuary dogs are astronomical and we continue providing them a safe haven because of generous sponsors who have found it in their heart to help them. For a monthly donation you will receive a beautiful Certificate of Sponsorship, with your fur-baby's picture thanking you for your love and support. Please visit our website and from the home page navigate to Meet the Dogs and go to Sanctuary Dogs.
BELLE would love a sponsorship to cover her medical care, shelter and food, BUT most of all a new HUGE ball every so often. Should you have any questions about the sponsorship program please email [email protected]. We thank you and the Sanctuary Dogs do too.
Want to know more about this interestingly unique and famous breed of dog? Simply click here: Colby Pitbull
Also Available For Sponsorship