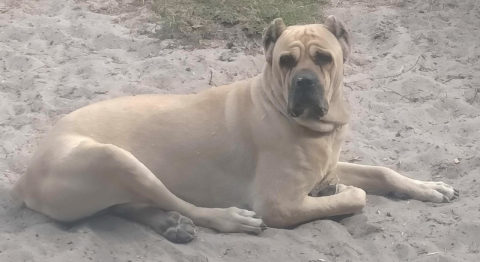 This big boy is a Cane Corso and Italian Mastiff mix.  Remington (previously called Ramsay), was only 11 months old when he came to FLRRR, and weighed in at a massive 128 lbs.  His name was changed, because he had already developed emotional resistance to the name upon his arrival.  He began to associate his name with "bad humans".  So, his name was changed to Remington, which by the way, he responded to nicely in short order.
Remington's story is as complicated and convoluted as any we have ever had.  It all began with a rescue out of Arkansas pulling him remotely, from another shelter, which no one knows about.  A foster family out of Ohio travelled to pick him up.  This family had a Cane Corso and had experience with this special breed.  For five months with the foster family, Remington did well and appeared to be thriving.  The Arkansas rescue then said they found him a home, in Washington State.  But, it wasn't Washington, it was Florida.  Why they lied – no one knows.  The Arkansas rescue had sold Remington to a man in Florida, for $1,600, who turned out to be a friend of FLRRR's owner, Joe.  After some time had passed, the dog never showed up to his new home, so Joe became involved and was able to get his friend's money refunded.  The Arkansas rescue then put this big dog, in a very tiny crate, and had a couple transport him to Florida.  The couple decided they would turn a "transport" into a vacation, and Remington was in that tiny crate for 46 hours, until they finally took him out in Georgia.  When they took him out, he became aggressive and did not want to return to the tiny crate. 
The couple called a behaviorist trainer in the area to work with Remington, just so they could get him back in the tiny crate.  This "trainer" fed him a pound of hot dogs, forgot to clean her hand, and so her hand was bitten.  The transport couple responded by tying Remington to a sign post and they drove away.  Remington was ABANDONED ON THE ROAD, TIED TO A SIGN POST!  Imagine the crippling fear this dog endured on that road!
Animal Control showed up and took him to their shelter.  He was fine with the officer (who had Cane Corso experience), and behaved at the shelter.  The shelter would not release Remington to FLRRR, so they called the foster from Ohio.  The fosters drove to Georgia, to sign Remington over to FLRRR, because they knew of the rescue's good reputation.
Remington has been living at the ranch now for 2 years and has grown to 220 lbs.  His aggression issues are understandable, because of everything that was done to him by the bad humans in his life.  He simply does not trust humans overall.  He trusts Joe and they get along well, and he tolerates the rest of the staff and volunteers.
Initially, because he's such a big boy and was kept in such small, contained spaces, his hind legs were contorted and very weak.  He walked wobbly and with difficulty … it was heartbreaking to see this regal creature so broken.  After a while, he regained the strength in his hind legs, and began to walk straight and run fast!  Now, when he stands up straight, on his hind legs, he is 7' 3" tall.  As such, he has cargo netting all through his entire run.  He loves to run and run, and enjoys playing with his toys.  And … when he thinks no one is watching, we see him relaxing … laying down under the cool blue sky and just chilling … not a care in the world and no more fear or pain.
Remington is a very special boy at FLRRR.  Not only because he is a very unique looking dog, and an uncommon breed mix, but also because he has suffered enormously and needlessly.  A dog should never have to endure the atrocities Remington has lived through.  This handsome fella is now part of the FLRRR family, where all his needs are taken care of, and where he is truly cared for and loved. 
Also Available For Sponsorship