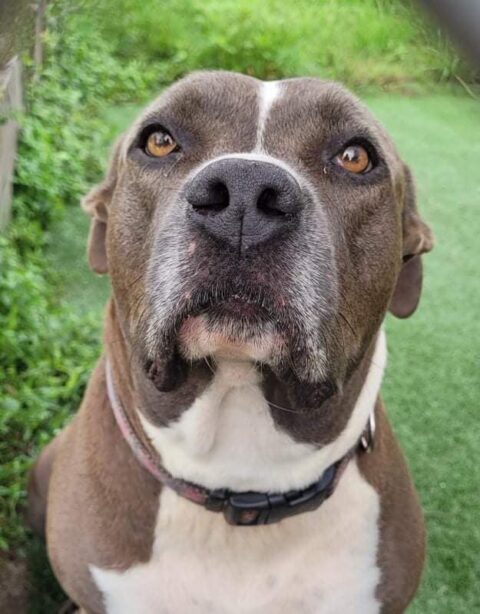 Sandy had been with FLRRR for quite some time because she couldn't make up her mind if she really wanted to be adopted. She would get super excited to meet folks and take their treats, BUT then she would turn right around and ask to go back to her play yard. Yes, she did this several times so we decided she would just be the mascot for the rescue. She had her own sign over her kennel, her own special blanket and her little princess purse … and several outfits to keep her warm in the chilly days and nights.
Fast forward and now we think she might want to give it another try. Sandy is probably 6 years old, Pittie mix and spoiled beyond the word! She is microchipped, spayed and UTD on her vaccinations. Sandy really loves kids and adults, not thrilled about other dogs and we do not know about cats. She loves car rides and yes, she has gone several times to get a burger and fries with Laura. Sandy is super great with her toys and she loves to snuggle and would LOVE to have a fenced backyard to play in. She will let you know if it's too cold and once her sweater or jacket gets put on, she really fights to keep it on.
Sandy is looking for a family that will "cater" to her quirkiness, but she is full of love and will make a wonderful housemate for the right family.  Are you wanting to meet this super sweet girl?  She's telling us she's ready to give it a whirl!