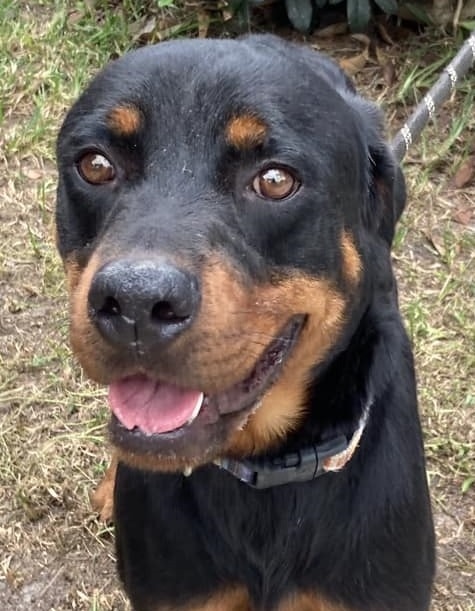 TERK arrived at FLRRR on 8/23/22 from Louisiana, where he was in a foster home for about one year before coming to the ranch.
The foster mom said that he knows the basics – sit, down, shake, stay. He was learning "place" and usually will stay put until given the release word "free". He showed signs of being apprehensive around men.
We believe his previous home, prior to his foster home, was not a happy place for him. If he's in a home where he feels secure, introductions to others will take a bit of time and this is especially true with men, so he must be given time and space … do not rush introductions.
When outside walking and he sees a man, he will appear quite nervous. Hopefully his trust towards men will only improve once he's in a loving home. Since his stay here, he has shown no concerning issues around Joe during feeding times and kennel cleaning. We feel he should be able to get along with other dogs and his trust with men will soon be a thing of the past with proper introductions.
TERK'S approximate birthdate is 8/23/2018 so he just turned 4. Terk is on the slender side and will be needing to add some weight. This boy is wild about treats!
TERK has surely endured great suffering in his past, and has not received the proper care and love he so deserves. But, the right family can help turn his life completely around. With patience, consistency, and love, he can live his best life ever and bring great joy to his family. Please consider giving TERK a chance at a good life!